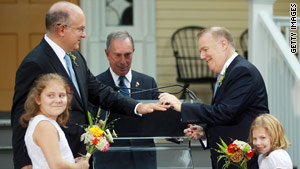 "Researchers from Alfred Kinsey to local nonprofits have tried for decades to count the United States' gay, lesbian and bisexual population, and still, there were no hard numbers.
But for the first time, the decennial census results report counts of same-sex partners and same-sex spouses, regardless of whether same-sex marriage is legal in their states.
Headlines from across the country reveal common themes: There are more people who identify as gay, and they've dispersed to more places."
'via Blog this'