b. 11th Sep, 1967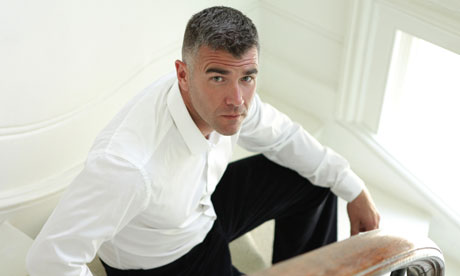 The story of Ivan Massow;s career has been steeped in controversy and scandal, but what I love about it, is the way that he built a fortune from scratch - by taking the fight directly to the enemy, the bigots in business.
Older gay men will remember well the open discrimination they faced from insurers and other financial institutions when HIV/AIDS first hit the headlines, and became closely identified with gay men. In a time of increasing HIV rates, gay men were seen as high-risk and required to pay much higher premiums than other customers, whatever their circumstances. These premium increases averaged 400%, but could be as high as 600%. In addition, gay men would be required to give full details of not only their relationships, but also their sexual practices. They would then have to undergo a full medical examination and an HIV test and, despite this, successful applicants (and many were refused cover by insurers automatically), would still find themselves listed on the Association of British Insurers' 'impaired life register' (a blacklist shared by insurers). Finally, the fact that the applicant had been made to go for an HIV test would prejudice all future applications.
The big money saw gay men as a risk - Massow saw them as an opportunity, and made a fortune taking business away from the established major companies.
Massow first hit the headlines in 1990, aged 23, when, with just a few pounds in the bank and living in a Kentish Town squat, he set up Britain's first financial advisory firm aimed at gay clients. Amid rising HIV rates, he became an outspoken crusader for gay men denied mortgages and insurance, or who were being charged premium increases of 600% or more.
He left school at 16 (surviving a seriously fractured childhood) with just one O-level in metalwork, but has always possessed an instinct for self-publicity. A series of guerilla poster campaigns, one showing Massow embracing then-boyfriend Jamie, taunted insurance giant Allied Dunbar over its TV adverts. "For the life you don't want Allied Dunbar to know about," it proclaimed. Massow swiftly became one of the brightest attractions in the capital's "faggerati", his business took off and his personal fortune soared.
The Guardian

:
By 1997, Massow's firm, Massow Financial Services, had become the 10th largest Independent Financial Adviser in the UK and was valued at £22 million. The later history was less impressive. In 1999, his firm entered into a reverse-takeover with its main competitor, but the deal turned sour and Massow drove the company into receivership in September 2001. All investors lost their money. Massow immediately opened a new company, which subsequently also went bust.
His life has also been notable for heavy involvement from a young age in the Conservative Party, a high profile bust-up and defection to Labour over over the homophobic Section 28 - followed by reconciliation and a return to the Tories.